Herb infused oils and balms
It's time to let the warm summer sun infuse oils on my window sill. Lavender, St John's Wort, calendula, plantain, feverfew and lemon balm to name a few.
The oils in this picture have been made by putting the fresh plant directly in the oil and leaving the sun to warm it each day.  If you make oils this way, the high water-content of the plants can cause the oils to go rancid so its important that you stir them each day and ensure all the air bubbles and any pockets of moisture escape.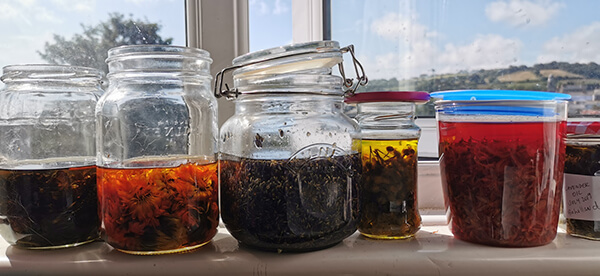 I use the oils directly on skin, or blend them with each other, shea butter and beeswax to make balms that are firmer and easier to administer.
If you've missed the summer sun's rays to make your infused oils this year, don't worry - you can also make an infused oil on your kitchen stove or in a slow cooker.
To Make a Hot Infused Herbal Oil:
Crumble the dried herb that you would like to infuse into a bain-marie ( pyrex bowl over a saucepan of water ) and cover it with the oil of your choice.
I like to use almond oil because it feels light on the skin. I also use organic olive oil sometimes as well because its easily accessible. I've also used apricot kernel oil.
Simmer the bain marie on as low a heat as possible so that the oil warms up, but does not start simmering itself.
You may need to turn the burner on and off throughout the day to maintain a warm but not too hot temperature. The idea is to gently warm the oil, not fry the herb in the oil. Infuse the oil for 7-10 hours over the course of a day or night.
You can experiment using a slow cooker on its lowest heat too. Some models it works really well and with other models, the lowest setting is still too hot and the oil fries.
Once you build up a collection of infused oils, you can begin blending them into balms of your choice. I like ginger, meadowsweet, comfrey and heather oils with wintergreen and bay essential oils as a sore muscle rub.
Calendula and St Johns wort oils are a classic combination for healing the skin. You could also add plantain and meadowsweet for their anti inflammatory properties.
Here is a simple balm recipe that can be adapted to any oils you chose to use.
To Make a Herb-Infused Balm
Four parts herb infused oil
Two parts Shea or cocoa butter
One part beeswax
Heat all ingredients gently over a bain-marie until melted. Stir well and infuse for at least10 minutes after everything has melted to ensure all ingredients are well blended.
Pour into glass jars to set.
You can add more beeswax for a firmer balm or more shea butter for a softer balm. If you drop the liquid onto a cold plate, it will set rapidly and you can test its consistency.
**Amongst many other recipes, there's a lovely plantain balm recipe on p101 of the Sensory Herbal Handbook.
**When I was in Geneva, I shared my making of a plantain and comfrey healing balm on my blog.